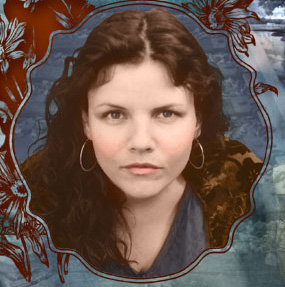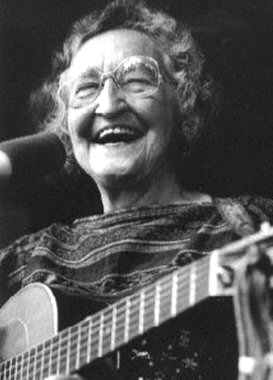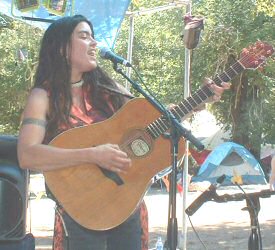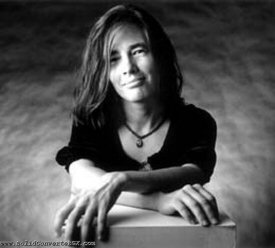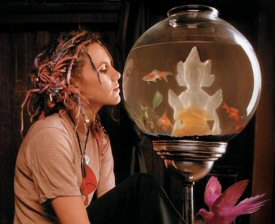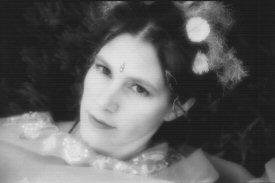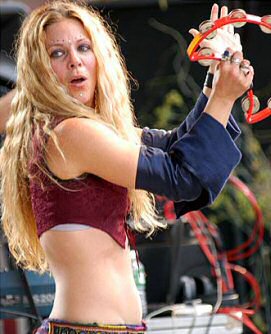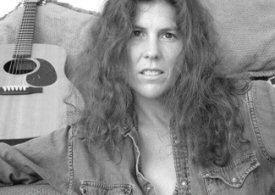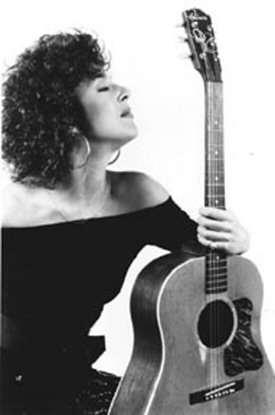 FEISTY FEMALES is a collective of amazing West Coast female singer/songwriters available to perform together in various combinations at festivals, nightclubs and special events. Composed of some of the Bay Area's hottest female songwriters performing in round robin style, Feisty Female concerts are raw and should be eaten with a spoon. Singing songs filled with stories of life and liberty that praise the sweetness as well as the complexities of life's crooked roads. Feisty Females sing from the heart, harmonize from the soul and inspire listeners to change the world with music!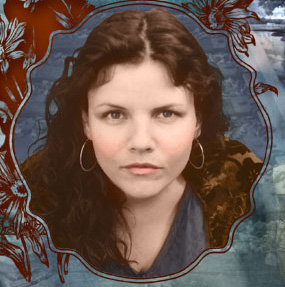 Corinne West: Forging her own contribution to Americana music, Corinne fuses the distinct voice of an original singer/songwriter with the driving steam of an American Roots train. Combining a swingin' pace with melodic ballads, Corinne delivers a soulful body of music that strikes the listener at the core. Corinne's songs of life on the road and everyday heroes take the listener on a journey of imagery that is fresh, and yet familiar. By blending a bowl full of alt-country, bluegrass, & progressive folk, (among a few other ingredients), Corinne has concocted the perfect Americana recipe, which recently resulted in her debut album "BOUND FOR THE LIVING". www.corinnesmusic.com/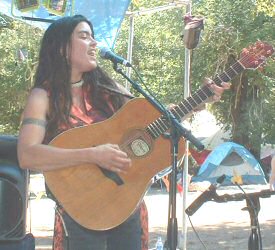 Diane Patterson: Referred to as a "Folk Goddess" by the Whole Earth Festival where her powerful, original music has been featured for 15 years. She "sings the world awake" with her authentic, radical lyrics, accomplished, rockin' guitar and soul dancing, drum beats with songs on an African style hand drum. Playing guitar since 1976, she sings everything from ballads to smokin' danceable beats. Diane currently makes her home in the Santa Cruz mountains where she is well-known in all over the West Coast for her amazing music, as well as her political activism.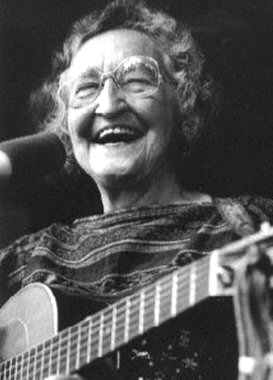 Faith Petric: Born on September 13, 1915 in a log cabin, Faith sings outrageous songs culled from a bevy of extraordinary minds, with wild, satirical, quirky, offbeat, and endearing traits that characterize the lady herself. She discovered cowboy songs in 1925 followed by the protest songs of the 1930s—and she's addicted to all of them. Faith really does know a thousand songs. While revered internationally as an honest-to-God folksinger from the "True Vine," Faith is the real article—a genuine repository of all that is best in the American spirit. Turning 90 this year, Faith simply says, "I think of myself only as liking to sing, and I try to sing what I feel." Folksinger Utah Phillips says: "If Eleanor Roosevelt were alive today and sang folk songs, she would be Faith Petric."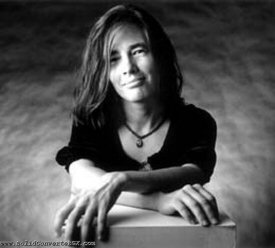 Joanne Rand: With roots in classical piano, gospel and the politico-folk-rock music of her youth, as well as indigenous songs and chants, Joanne Rand has been performing nationally and recording for more than 20 years. Weaving her life into her work, Joanne's spins songs of transformation and grassroots power (dubbed psychedelic/folk/revival and acoustic rituals). From audiences of 60,000 to personal appearances with Bonnie Raitt, Richie Havens, Janis Ian and members of the former Grateful Dead, Rand moves hearts along a wide spectrum of human existence. www.joannerand.com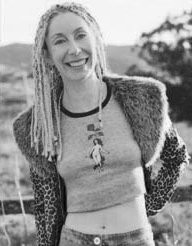 Kimberly Bass: Currently residing in Nevada City, Kimberly Bass sings warm melodic songs that blend clear insight with divine inspiration. Her music reflects the highs and lows of love, speaking the language of the heart. She has an earthy sound and the lyrical beauty of her songs uplift the soul. Kimberly also sings with Trance-Zen-Dance and creates divine performances with crystal chakra bowls. www.kimberlybass.com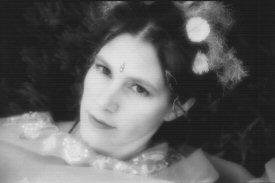 Lakshmi Devi: This outstanding vocalist blends intricate rhythms and spirited lyrics to create a stunning and uplifting hypnotic blend of high-energy tribal rock. Lakshmi Devi is passionately explores the creative and mystical realms as it is her greatest joy to bring forth evocative, sometimes surreal, sometimes earthly, songs of devotion and longing from her inner journeys. She accompanies her trance like vocals with her own style of rhythm guitar and soul-inspired hand percussion. This angelic singer/songwriter's entrancingly beautiful music shines forth with haunting presence. Lakshmi also sings with Kali's Angels. www.lakshmidevi.com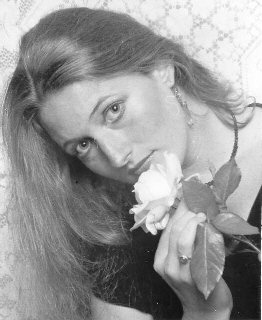 Kym Trippsmith: Singing folk ballads laced with political satire, unvarnished truths, family honesty and sly humor, Mamazon is the host of Feisty Females in the Round. Formerly the lead singer of the popular rock/funk band Amazon Queen, Mamazon returns to the music scene (now the proud mom of 2 inspirational kids). Mamazon's haunting melodies hit home while her fearless lyrics create socially conscious songs set to the heartbeat of the earth. She also sings with Native American drummers, Eagle Spirit, and does radio and live theater w/The Independent Eye.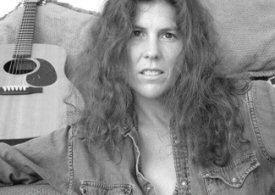 Marca Cassity: Originally from Oklahoma, Marca Cassity plays thumping acoustic guitar, sings with her soul, and writes lyrics with a fiery spirit. Her funked-up, Joan Osborne-esque tunes delve into love, demons, tragic disco queens, and the infinite power of the natural world. Cassity was nominated for "Best On-Air Entertainment Personality" at the Colorado Broadcasting Awards. www.marcacassity.com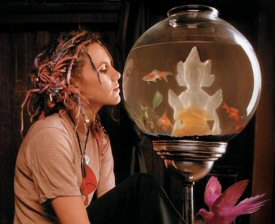 Sheila Nicholls: Sheila Nicholls is a poetic, political, acerbic and uncompromising singer-songwriter who grew up in Colchester, Essex, England. Her first recording, Brief Strop, was a haunting album that earned her devoted fans and extensive touring, including a swing through Europe with k.d.lang. The album came out on her own artist-run label, Essex Girl Records, which Hollywood Records picked up for wider distribution. Still living in Los Angeles, Sheila's songs are still self-contained and all about empowerment. Well-versed on the piano and guitar, Sheila's music speaks about "the troughs and peaks of having and not having it." www.sheilanicholls.com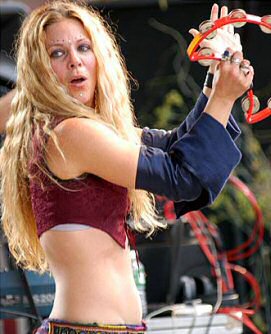 Suzanne Sterling: Suzanne is an ecstatic vocalist and composer whose devotional music has been called a "groove-loving blend of crafted wildness and holy longing." She has received critical acclaim both as a performer and as a recording artist—her debut album "Bhakti" reached #5 on the New Age/World radio charts and her music has been commissioned for film, video and theatre. As a Feisty Female, her signature haunting melodies—both rich and inspirational—will take you on "a seductive journey into Spirit." Streams of her ethereal voice invite you to another world where a potent blend of vocal magic awaits your sweet awakening. Additionally, Suzanne currently sings with 3 diverse projects: Alcyone, Medicine Drum and Kali's Angels. www.suzannesterling.com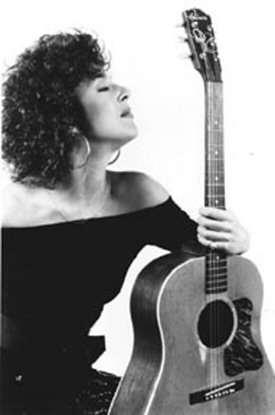 Teresa Tudury: A native San Franciscan, Teresa Tudury is a powerhouse performer dripping with talent and a voice that blows minds. Living the last 18 years in Los Angeles, Teresa has been actively writing comedy and working as a character actress on stage and screen. A thumping guitar player (on her 1936 Gibson acoustic), she has an amazing contralto voice and has performed with such greats as Leonard Cohen, Ricki Lee Jones and Lyle Lovett. Teresa is well-known for taking off into that 'zone' of spontaneous combustion.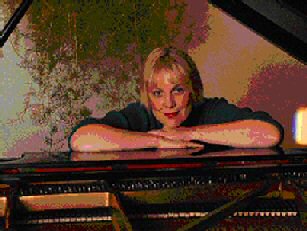 Katy Ketchum Award-winning composer, pianist and national touring artist, Katie Ketchum swings from a gentle, ethereal, folk/classical based with sultry hints of Celtic and Middlle Eastern rhythms to a driving rockabilly/gospel/parody style. With her upper range, she brings passionate pathos that opens your heart. With her chest voice engaged she creates original rockabilly "sparks" reminiscent of Wanda Jackson, Elvis's girlfriend, and seems to be channeling Jerry Lee Lewis rockin' piano. Katie's most recent project "The Magdalene Stories" a one-woman musical about the many stories of Mary Magdalene made it's world premiere with rave reviews at Spreckels Performing Arts Center in 2005. www.katieketchum.com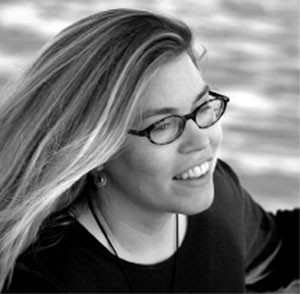 Lisa Redfern Lisa Redfern is a singer-songwriter who grew up in Maine and relocated to Northern California in 1996. Lisa's father, Bob, was a folksinger, multi-instrumentalist, and builder of dulcimers and guitars who fostered Lisa's musical beginnings at the hootenannies sponsored by the Seeger Family in the late 50's. Her 1996 recording "Hushabye, Lullabye" has sold more than 30,000 copies in the past few years. Her self-produced recordings "In the Asking" 1994 and "No Small Thing" 1998 received shining reviews and steady radio play. She recently won the Northern California Songwriters Association Best Song award and has hosted a local Songwriters in the Round Series, as well as performed with Pete Seeger and opened for other notables, most memorably The Roches. www.lisaredfern.com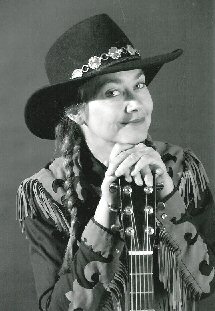 Cici Dawn Originally from the Hills of Beverly, Cici Dawn started working at the local rodeo grounds at 12 years of age. Soon she took up the guitar, as well as the upright bass, and started singing and composing songs. Her versatility is evident in her range of styles (swing tunes to ballads, jazzy blues to country…..with her current love being old cowboy songs). In 1989 "Dusty Rhodes" was born. Since then, Dusty has put out two Cowgirl CDs, and done numerous road tours of the Western States. This irreverent yodeling Cowgirl sings classic and original cowboy and western music (like "Let's Put a Cowgirl in the Whitehouse!"), and is often accompanied by her Handsome Cowboy, "Red."
Deirdre Egan Whether it be her hometown streets of Irish-American Yonkers, New York; the honky-tonks of Montana, where she honed her performing skills both as a solo artist and in a duo called The Mayfair Girls, Deirdre Egan's songs provide snapshots—lives, situations, and emotions—captured in song. In addition to songwriting, Egan is a multi-instrumentalist who plays the guitar, the piano and the Irish harp. Her songs take listeners on an introspective journey of love, lost and found, ancestry, and observations of everyday lives and injustice as well as traditional and original Celtic tunes.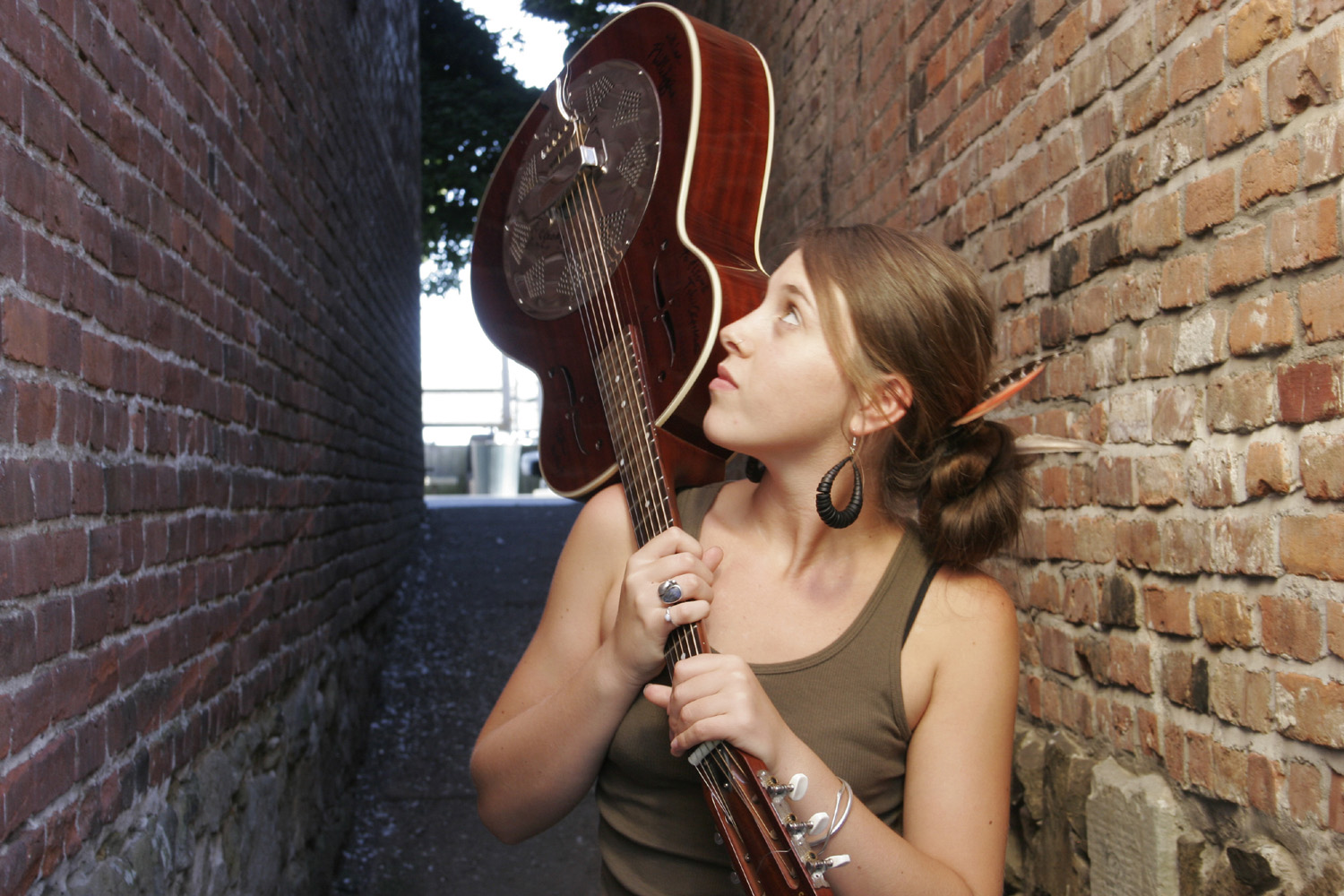 CLEOME: Born and raised in Washington State, Cleome's music is a fusion of the soulful tones and melodies of traditional blues and jazz, the warmth of Caribbean reggae and Cuban rhythms interspersed with flowing rap/poetry or "flowetry." A recent graduate from Hampshire College, Cleome studied the history of "music and social change within the music of the African diaspora." Her thesis work included six months of research and performance with members of the Socially Conscious Cuban Hip-hop Movement in Havana, Cuba, where she recorded an original track with Sekou Umoja of the highly controversial and revolutionary Cuban rap group Anonimo Consejo. Witness the Bay Area birth of a young songwriter who is sure to make her mark on the music world...
For booking and information,
please contact: mamazon@sonic.net
or call 707-874-9460
copyright © Amazon Productions. All Rights Reserved