Enter if you dare… into the realm of the fantastic where creatures of your wildest imagination come to life!

Site-Specific Performance Specialists Extraordinaire !
Rooted in physical theater, Diva Galactika (formerly Danger Ha Ha!) combines stilting with modern dance, character work, fire juggling, and vocal harmonies to initiate a new form of multidimensional performance. In the past ten years, this innovative performance troupe has become one of the West Coast's premiere stilting and performance companies, known for its "dancing on the edge of danger" style. Whether creating site-specific ambience, choreographed performance, or hosting parades with enchanting pageantry, Diva Galactika! has performed at concerts, festivals, corporate parties, and special events all over the West Coast, captivating audiences with compelling beauty and undeniable daring.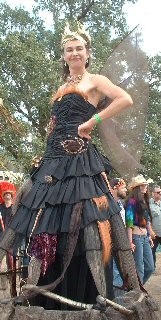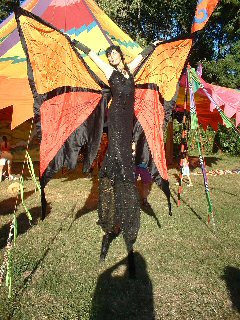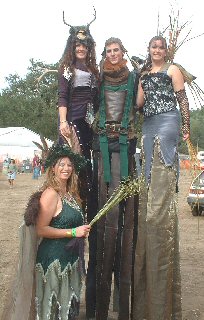 Diva Galactika is dedicated to creating innovative stilt-based performance filled with awe-inspiring movement, stunning visual candy, and exotic thought provoking dynamics that encourage audience participation and community ritual. We work collectively fostering a growing vocabulary of structural improvisations that enhance individual and group projects. We are driven to push the limits of the performance envelope by exploring the alchemy of movement, voice, engaging costumes, characterization, and fire.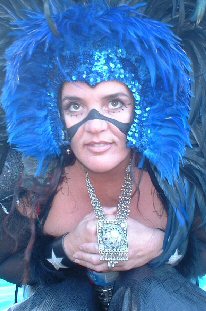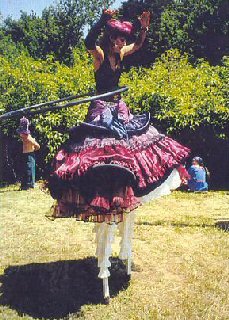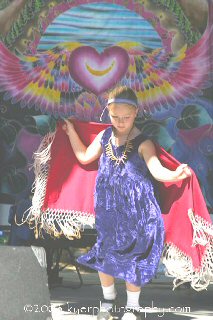 Partial List of Performance Venues

Chet Helms Tribal Stomp, 2005, Speedway Meadows. GG Park, CA

Earthdance Festival, CA 2001-2005

Oregon Country Fair, Eugene, OR 1999-2005

Benbow Music Festival, Benbow CA 1999-2004

Health & Harmony Festival 97-2004, Santa Rosa, CA

High Sierra Festival 2001- 2002

Tribal Stomp, Hayfork, CA 2000

Dogwood Festival, Atlanta GA 2000

May Day Festival 92-2003, Fairfax CA

The Big Bang (w/Antenna Theater), NYE 2000, Sausalito, CA

Geekapalooza (w/The Venusians), San Francisco, CA

30th Anniversary Summer of Love Festival, San Francisco, CA

New Year's Eve Bash 1995, Mariner's Hall, SF, CA

Mardi Gras By the Bay, Shoreline Ampitheater, CA

Fat Tuesday, Oakland Coliseum, CA

Kudos from our clients...

"Mesmerizing and wild! Diva Galactika has the uncanny ability to make any event happen… " - Michelle Deem Deem Entertainment Services

"Your troupe really made the party a hit. Thanks so much for being part of the A+ rating we got from our client." - Kristen McCormick An Entertaining Company

Company Members

Amanda Burton, Dana Canady, Wendy Frades, Matt Lafferty, Erin McMahon, Miles Toth, Mojo Thayer, Kym Trippsmith, Ravyn Trippsmith, Patricia Zura

For booking and information,

please contact:

mamazon@sonic.net or call 707-874-9460

copyright © Amazon Productions. All Rights Reserved